CineGalaxy, Inc to distribute PuriJagannadh & Kalyan Ram's "ISM" in overseas
ISM overseas release by CineGalaxy Inc.
Over the last few months, Nandamuri Kalyan Ram's ISM has been generating a great deal of buzz. From his very fresh teaming up with Puri Jagannadh to the very intense look of the actor in the film, everything is proving to be a matter if interest. It's the first time in his career that Kalyan Ram has undergone a complete makeover and is going to flaunt not just six pack abs but also a very stylish avatar.
But that's not it. It needn't really be said how director Puri is known to give the careers of actors a major boost with the way he shows them. And in Kalyan Ram's words, he is turning over a new leaf with this film in which he plays a journalist.
And then, there's more. The present favourite in south India, Jagapathi Babu, is playing the prime antagonist in this film and might we say he looks awesome!
Produced by the prestigious NTR Arts banner who've always believed in delivering the best in quality of all their ventures, this one will be a feast to viewers. Set for a grand audio launch on October 5, the film is set to release soon.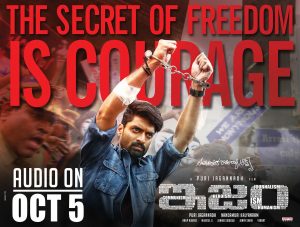 As all of these wonderful elements come together to present a very new story of a person who dares to question, this promising film is going to get the right teaming up overseas! Leading distributors of Indian cinema overseas, CineGalaxy Inc. is set to bring this film to the overseas audiences.
With the belief that the best should be presented to the audiences, CineGalaxy Inc., has always distributed films that make a difference and are loved by the audiences. With the same intention, we bring to you ISM which is set to hit theatres near you very soon. Watch this space for more!
For business and trade enquiries in overseas, please contact:
CineGalaxy Inc.
Email: movies@cinegalaxy.net
What'sApp: (972) 953 5226
Phone: (972) 953 5226
Website: www.cinegalaxy.net
Facebook: facebook.com/cinegalaxy
You may also like...